When is the best time to see dolphins in Scotland?
A question that our staff and volunteers are asked hundreds of times a year is the "When is the best time to see dolphins?" There is not a hard and fast rule to this as the dolphins are resident in the Moray Firth and North East Scotland and can technically be watched all year round – if you know where to go…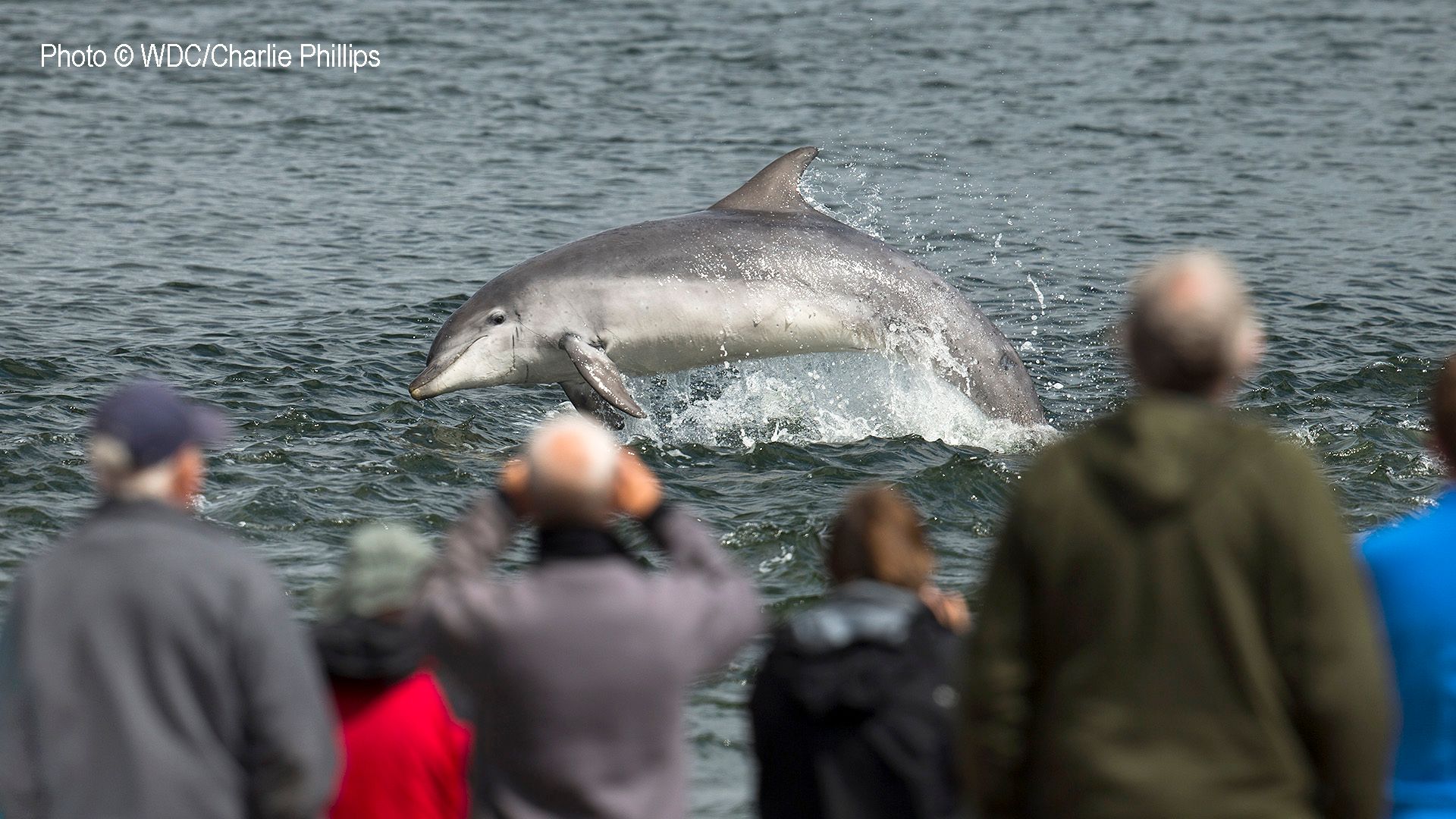 The photo above shows people standing on the shore watching a young dolphin breaching only a few metres away at possibly THE most famous place in the UK for land-based dolphin watching – Chanonry Point on the Black Isle near Inverness. For watching dolphins here you need to know a few things…what the tides are doing and also, to a lesser extent what the moon phase is. The dolphins hunt for migrating salmon during the spring and summer and this hunting takes place in conjunction mainly on a rising (or flooding) tide so finding when the tide is rising helps a great deal.
Remember that there are four, six hour tidal sequences every day, two rising and two falling (ebbing) making up the twenty four hour day so technically you can have two good opportunities every day for dolphin watching although the tides advance by around forty minutes every day so the actual period (morning, afternoon or evening) for land watching can be different. For tide times I tend to recommend Admiralty Easy Tide who give a weeks tides for free: but remember to add one hour during the summer for British Summer Time, something that many people forget about. If you try to be at Chanonry for about low tide just as the tide start to rise then you will not go far wrong – sometimes dolphins will be there already, sometimes they make us wait for a while.
For land watching at our Scottish Dolphin Centre at Spey Bay, the tide state doesn't really apply here so better to contact us directly. Boat watching for dolphins is not normally tide dependent as boats are mobile and can move around set routes and encounter dolphins in transit. There is a list of accredited dolphin and wildlife watching boat operators – or have a look on a new website which has a lot of useful information. Happy Watching!