Hi Everyone,
I was out on the Aberdeen University research boat for the whole of Tuesday doing Photo Identification and what a lovely day it was…blue skies, even bluer seas and quite a lot of dolphins too. Strangely enough the normal Adopt a Dolphin gang like Sundance, Moonlight etc were conspicous by their absence but we did see Rainbows big lad, Prism and also Spirit again with her youngster from last year. We also had two adult female dolphins with tiny newborn calves or "Dinky's" as Barbara calls them. The photo below shows ID#64 "Happy Dragon" with her latest baby, maybe only a few days old going by his or her wrinkly skin.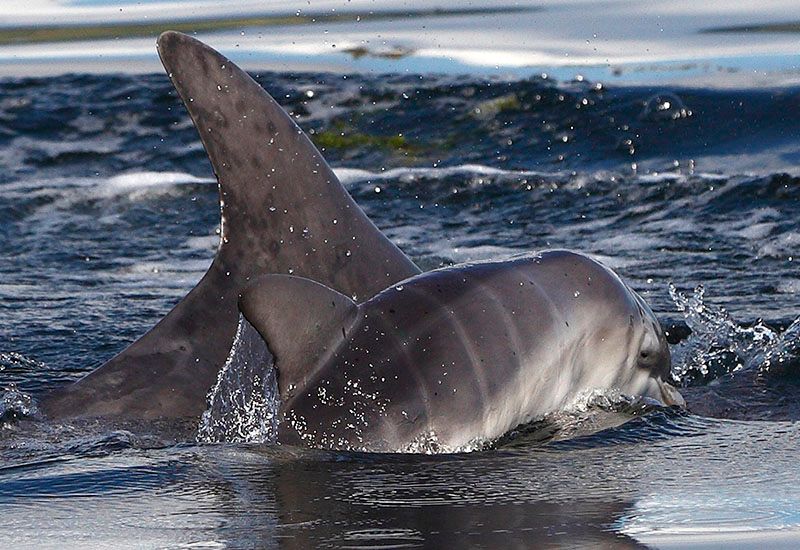 ©WDCS/Charlie Phillips
What a little cutie eh?
This morning, through the pouring rain, I was watching and taking photos of Kesslet, Charlie and Scoopy from the comfort and dryness of my old 4×4 and had been chatting to Elsa in the Dolphin & Seal Centre when I suddenly noticed more dolphins in the distance, nearer the Kessock Bridge. On having a drive down the shore road to get nearer them I saw two adults, one with a last years calf and one with a "Dinky" that doesn't look very old and the female that was with the newborn wasn't one that I saw on the trip on Tuesday so I'll have to look up our master Identification book…
Best Wishes,
Charlie.